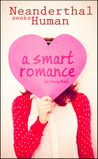 Neanderthal Seeks Human
by
Penny Reid
My rating:
3 of 5 stars
I honestly don't know if I loved or hated this book. There were times where I loved Janie and all her weirdness but then there were times that I wanted to punch her. This book was uncomfortably awkward. I get second hand embarrassment... like reeeeeeaaal bad. Like real real bad. So I was so embarrassed reading this book because Janie was so embarrassing.
But this book was also funny at times and Quinn was so sweet and I loved him. oh and I LOVED Janie's knitting group. I will be reading the next one for the group alone!
So yeah I don't know. I enjoyed this book but I was also uncomfortable reading it..Does that make sense to anyone? No? Okay bye.
View all my reviews